Residents of St. Paul's Rondo neighborhood, which was torn apart when Interstate 94 was built in the 1960s, are continuing their years-long push to reconnect the predominantly Black neighborhood and right a wrong.
On Tuesday, leaders of the nonprofit Reconnect Rondo testified during a virtual House Transportation Finance and Policy Committee meeting (watch it here) about their proposal to build a land bridge over I-94, which they say will revitalize the community that was devastated by the racist policy decisions that led to a neighborhood being destroyed to build a highway.
To right this wrong, Reconnect Rondo, which has been working with the Urban Land Institute, is pushing for a 12-21 acre land bridge that would cap I-94 between Lexington Parkway and Dale Street in St. Paul, stretching between 2,600-3,200 linear feet.
The land bridge would connect both sides of the neighborhood over the interstate and also make room for additional development, including more than 500 units of housing, space for businesses and community spaces, among other opportunities, Reconnect Rondo says. 
The Urban Land Institute in a 2018 study found building a land bridge would create an opportunity for Black leadership and ownership that would enhance livability in the area, and help make up for social injustices of the past.
Destroying Rondo
Marvin Anderson, who was referred to during the meeting as the "Mayor of Rondo" and is the board chair of Reconnect Rondo, described the Rondo neighborhood as the cultural, community and business hub for the Black community in St. Paul in the decades before I-94 was built.
The neighborhood was home to 80% of the city's Black population and despite discrimination and systemic racism, including discriminatory lending and housing practices like redlining and racial housing covenants, Rondo was thriving.
But in the late 1950s and 1960s, that changed. The State of Minnesota built I-94 on top of the community and peoples' homes. During that time, 700 homes were demolished and 300 businesses were closed, Reconnect Rondo says.
"That was not an accident, to destroy the heartbeat of the Black community in St. Paul," Rep. Ruth Richardson, DFL-Mendota Heights, said during the meeting, noting the destruction of Rondo was a policy decision.
Richardson, who grew up in nearby Frogtown, said growing up, "The trauma and the destruction of the Rondo community was heavy. It was still very raw and heard many stories of the displacement and the loss related to that."
"My story of Rondo begins when I saw my father cry for the first and only time," Anderson told the committee, noting his father, his godfather and three other Black men built 12 apartment homes in Rondo, and when the state highway department decided to demolish a huge swatch of the neighborhood to make room for I-94, the men were only paid a fraction of the buildings' value.
"He got the news that (his) final appeal had been denied by the Commissioner of Highways in St. Paul," he added.
His family's story mirrors those of many Black families who lived in Rondo in the 1950s and 1960s, including Mayor Melvin Carter. Carter told the committee on Tuesday that his grandfather lost more than six commercial properties when I-94 was built. And when he was a kid and his family would drive down I-94, his dad would say "You're in my bedroom now," when they'd approach where his home once stood but is now covered in pavement.
I-94 negatively affected thousands of African Americans, with Anderson saying it split apart their vibrant, culturally rich community affecting their relationships, as well as their financial security, homeownership, food security, educational security, environmental health and energy security.
While other communities in the Twin Cities were divided by the construction of I-94, it was different for Rondo and its Black residents, who had no option for a new place to live or start a business due to discriminatory housing practices and high rents in other areas, Anderson said.
"The options were so limited to the people of Rondo that they felt abandoned," Anderson said. "They lacked the means and they lacked the financial resources to reclaim a life that they had spent years establishing in Rondo." 
Funding
Keith Baker, Reconnect Rondo's managing director and former Minnesota Department of Transporation (MnDOT) contract manager, admits the project, which could cost upwards of $450 million to just build the bridge, is a big ask and a massive undertaking.
Reconnect Rondo and the Urban Land Institute believe a multifaceted, phased-in funding approach is the best way to go about the project, with the groups envisioning money coming from public, private, philanthropic and community funding.
Baker says this approach will allow for participation from a variety of stakeholders and partners, including the State of Minnesota, Ramsey County, the Metropolitan Council, the City of St. Paul, MnDOT and others.
Currently, Reconnect Rondo is in the initial planning and financing phase of the project (Phase 0), which requires about $6 million to complete pre-design, general planning and engineering studies for the bridge, Baker explained.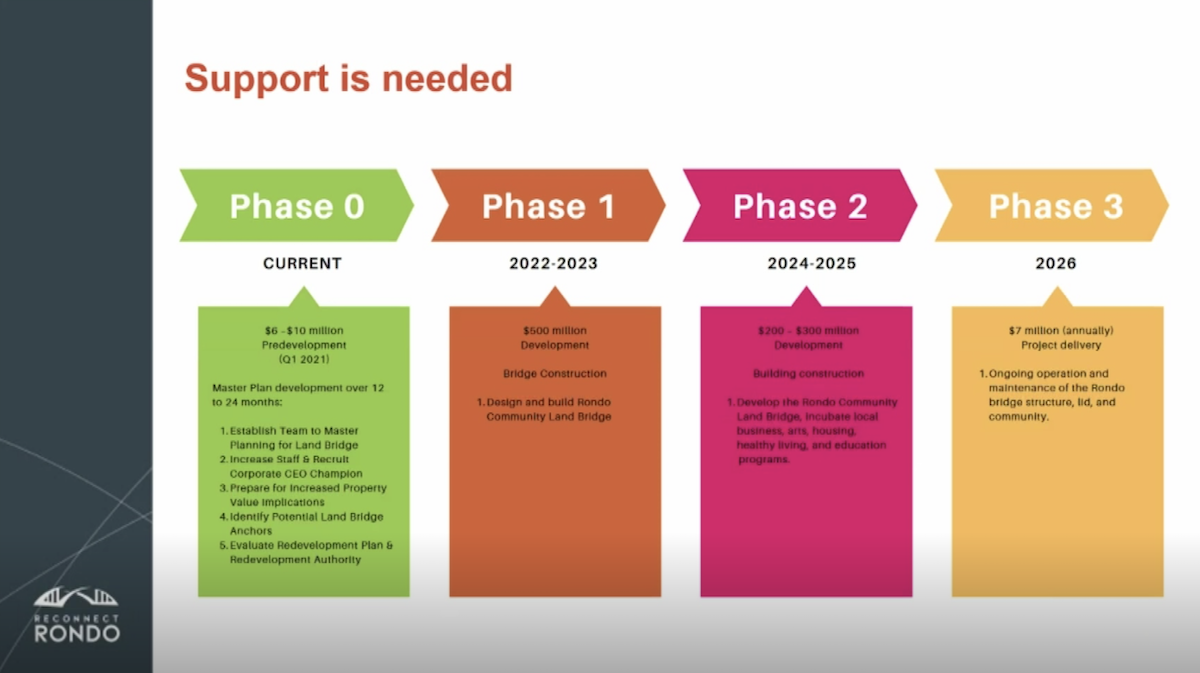 They're hoping to get the money for this pre-development phase from the state, which would come as a general state appropriation if it does get awarded, the Pioneer Press says.
Mayor Carter, who spoke in support of the bridge proposal, said the city has contributed resources to the early planning of the land bridge and the types of development that could go on it.
He asked the committee members to "work with us to advance a restorative approach to highway investment that will build a stronger St. Paul and a stronger Minnesota, and go a long way to righting the wrongs of those who sat in our seats some 60 years ago."
Bill forthcoming?
Some committee members expressed their support for the innovative approach to reconnecting the Rondo neighborhood.
No action was taken at Tuesday's meeting because it was information-only and a bill that would appropriate funding has not been introduced in the House.
Committee chair Rep. Frank Hornstein, DFL-Minneapolis, told the Pioneer Press the committee has an early April deadline to put together a transportation funding and policy bill and he's confident funding for the land bridge will be included.
"We're going to look at a few funding options, and put together a bill to support the Rondo project and other transportation equity projects, as well," Hornstein told the paper, calling the Rondo proposal an emblem of "hope and reconciliation."
Hornstein told the committee and those watching the meeting that when they're driving down I-94, "You might be driving through their living room, uninvited."
Meanwhile, officials with MnDOT, which owns I-94, will be invited to a future committee meeting to discuss the land bridge and other transportation issues, Hornstein said during the meeting.
MnDOT continues to work on its years-long "Rethinking I-94" project to develop a new vision for the interstate between Minneapolis and St. Paul to improve safety while prioritizing those who live and work in the corridor.
Pre-COVID-19 pandemic, traffic volumes on the interstate exceeded 150,000 vehicles a day and more than 2 million public transit riders every year. Meanwhile, more than 250,000 people live within one mile of the I-94 corridor.
MnDOT is currently in Phase 2 of the project, which calls for MnDOT to continue engaging with communities in the I-94 corridor and evaluating alternatives for the interstate, MnDOT's website states.